My designs are inspired by my love of all things unique and unusual. I follow no rules and often use mixed mediums when I work. Some may think me completely unsatisfactory in their learned world of colour, shadow and light, but there is something to be said about allowing your imagination to be set free without constraint!
My work expresses my mood. It may be whimsical, joyful and full of colour, or it may be melancholy and grey, but it is always perfectly formed when it finds its place!
Biography
My name is Seika, and I live in the Niagara Region of Ontario. I have been an artist all of my life. As my parents are both prolific painters, my Mom taught me to paint at a very early age. Even my early pieces were considered "too advanced" by my kindergarten teacher, who called my mother to say, "There must be something wrong with your daughter." Ignoring the naysayers and dream crushers, some 50 years later, I continued to draw, paint, and work in mixed mediums.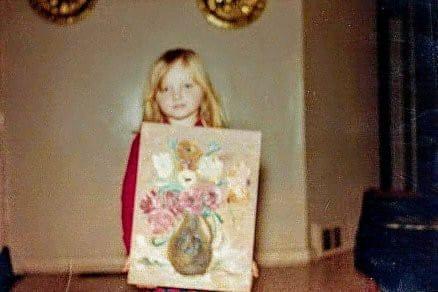 In grade school, my whimsical artwork often won the attention of teachers and science fair judges. Using whatever I had at hand, I loved creating fantastic dioramas and 3D renderings to make my work standout. There was often jealously and rivalry with other students as my skills in Plasticine sculpting were top-notch.

In high school, I turned my artistic talents into a part-time job. Students in the senior year art course had to turn in still life paintings as part of their final mark. Many thought art was an easy credit, but found out the hard way it wasn't – so, I took advantage of their lack of skills and charged a dollar to complete a piece for them! I was savvy enough to make sure each piece reflected the student in some way, although I am certain my art teacher knew what was going on. Nothing was ever said, so I continued with my lunch money side gig for three years. I won't say I got rich, but I did often get fries and gravy!
My unique style also inspired a well known watercolour artist to change his realistic, almost photographic like training techniques to capture more of the fun and frivolity that I brought to my paintings under his tutelage. He used to say I painted the very best Van Gogh style lemons, and my little crooked houses and puffy trees were so adorable Dr. Seuss would have approved.
It may sound crazy, but my first major break came when a friend's older brother saw a drawing of a unicorn I had done in art class, and asked if he could paint the image on the side of his 1976 Chevy van. I agreed, and with the assistance of a professional airbrush artist, my design became mobile art! It was always a thrill to see it driving around the neighbourhood…and I became a local celebrity.
Today, I illustrate not only my own children's books, but those of other writers. I have worked as a reproduction artist for a number of museums. My large-scale, original acrylic works have been displayed in galleries and private collections around the world! I also create graphic designs for all kinds of products on the market.
Books